McReynolds Style Mandolin Curriculum (10/3-12/9)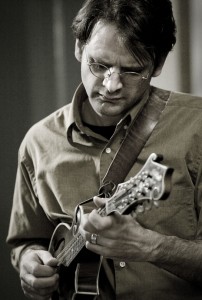 "I've participated in many online learning programs, but so far, your format is the best I've ever seen. I am so pleased I happened upon your courses."—Gina M.
"This was the best online learning experience I've ever had. And, for the time and money, the best music learning experience in any format: DVD, video, group, or individual live lessons."—Christine R.
Register by 9/24 and save $25!
Register for McReynolds Style Mandolin with Matt Flinner
See the Early Country Mandolin with Matt Flinner curriculum (10/2-12/9)
See the Music Theory for Mandolin Players with Matt Flinner curriculum (10/4-12/2)
This course will help you learn the basics of crosspicking on the mandolin in the style of the great Jesse McReynolds. Material will focus on various crosspicking patterns and double stops and positions in various keys to create unique and often intricate solos on bluegrass standard songs. Arrangements will start out fairly simple and will progress to more complex solos as we explore some of McReynolds' approaches to playing melody, along with some other approaches to incorporating crosspicking into your playing. We'll also explore a couple of great "standard" picking tunes by Jesse. It's a great way to add some color and flair to your playing!
Classes will meet on Tuesdays at 2 pm and 9 pm eastern time from October 3 to December 5, with the weeks of October 31 and November 21 off due to Matt's touring schedule and the Thanksgiving holiday. Follow-up practice sessions, in which Matt will review all of that week's material with the students, take place on Saturdays at 11 am from October 7 to December 9 (again, with November 4 and 25 off due to Matt's touring schedule and the Thanksgiving holiday).
Attendance to the live class and review sessions is encouraged but not essential, as all sessions are recorded and available to view on the class website by the following day.
This course is recommended for intermediate to advanced players.
Register for McReynolds Style Mandolin with Matt Flinner
Register by 9/24 and save $25!
WEEK 1 (10/3)
Intro to cross picking
Crosspicking Pattern 1
Double Stops in the key of A
Playing cross picking patterns over double stops
Don't Say Goodbye if You Love Me
Dixie Road
WEEK 2 (10/10)
The Key of D
Double Stops in D
Moving from one double stop to another
Crosspicking on the high strings
Crosspicking on the low strings
Take My Ring from Your Finger
Rabbit in the Log
WEEK 3 (10/17)
Key of G
Crosspicking Pattern II (DEDEADEA)
Low and high double stop positions
Sweet Little Miss Blue Eyes
Where the Soul of Man Never Dies
WEEK 4 (10/24)
Adding intermediate double stops
Diatonic Double Stop Exercise in G
Varying the picking pattern (Pattern 1 and pattern 2 on same part of melody to create syncopation)
Gosh I Miss You All the Time
Deep Elem Blues
WEEK 5 (11/7)
Some non-cross picking McReynolds tunes
Picking Exercise III
Minor double stops
Border Ride
Witch Grass
WEEK 6 (11/14)
Keys of E and B
E and B double stop exercises
Low and high positions in E and B
It's a Lonesome Road
Alabam'
WEEK 7 (11/28)
More advanced tunes in G
Crosspicking Pattern 3
Throwing In Occasional Crosspicking in Solos
I Wonder Where You Are Tonight
Stay All Night
WEEK 8 (12/5)
A couple of McReynolds classics
Combining picking patterns
More double stop exercises
Changing octaves
Stony Creek
Sweet Georgia Brown
The course fee is $225. Register by 9/24 for just $200!