Trio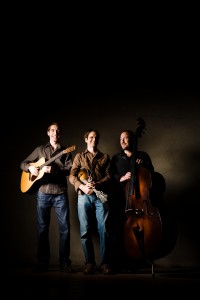 Download the Matt Flinner Trio press kit: MFT EPK-2
The Matt Flinner Trio
"Deeply Rooted New Acoustic Music"
In 2006, three musical pals decided to get together to play a few gigs; since then, the Matt Flinner Trio has been exploring new pathways and setting new standards for the bluegrass trio sound all around the U.S. and Europe.
Mandolinist Matt Flinner, guitarist Ross Martin and bassist Eric Thorin cover a wide variety of musical styles—all with the common ground of American roots music. Bluegrass, jazz and old-time music are all present here in their ways, along with a dose of classical chamber music composition and arrangement, as the members all draw from their wide array of musical loves, experiences and influences.  These influences boil down into the trio's own organic sound of New Acoustic music, or Modern String Band music, or Chamber Grass (music is getting harder and harder to label these days, isn't it?).  Whatever label you put on it, it is guaranteed to be fresh and original, and definitely something you've never quite heard before.
"Shiny Blue" from Traveling Roots (Compass Records, 2016):
"Head-Smashed-In Buffalo Jump" from Traveling Roots (Compass Records, 2016):

The trio began doing "Music du Jour" tours in 2006, in which each member of the group writes a new composition the day of the show, and all three new pieces are performed on that evening's concert. After several of these tours the trio recorded its first CD, "Music du Jour," on Compass Records in 2009.  They have now performed over 150 "du Jour" shows around the U.S., and continue to explore new frontiers and new sounds in acoustic string band music. Their third CD, "Traveling Roots," was released on Compass Records on January 22, 2016.  After the release, the trio continues their "Music du Jour" project, writing music the day of the show for special guests including Tony Trischka, Darol Anger, Sam Bush, Frank Vignola, Andy Hall and many others.
Here is a short video about the "Music du Jour" project:
To read more about the Music du Jour tours, click on these links:
Missoula Independent News Article
Mandolin Cafe "Music du Jour" Article
"Shiny Blue" Live at Swallow Hill in Denver, May 2015:
"The Terry Cloth Warriors" Live at Swallow Hill in Denver, May 2015:
Download the Matt Flinner Trio press kit here: MFT EPK-2