Advanced Bluegrass Mandolin Soloing with Matt Flinner Curriculum, 1/10-3/11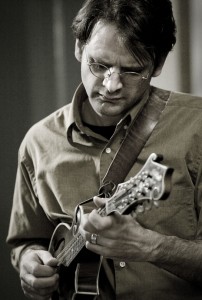 "I've participated in many online learning programs, but so far, your format is the best I've ever seen. I am so pleased I happened upon your courses."—Gina M.
"Your classes are moving me forward so very much. Thank you." —Jean C.
"It was nice there were various assignments which pushed my ability. Never felt I had "mastered" ALL the homework so never got bored. Always something to work on or do next."—Joe S.
Register for Advanced Bluegrass Mandolin Soloing with Matt Flinner
See the Bluegrass Mandolin 101 with Matt Flinner curriculum (1/9-3/11)
See the Folk & Bluegrass Mandolin Rhythm with Matt Flinner curriculum (1/4-3/5)
Join Grammy-nominated mandolinist Matt Flinner for a look into the mandolin styles of many of the bluegrass masters: Bill Monroe, Jesse McReynolds, Herschel Sizemore, Adam Steffey and many others. Each week, students will look at two recorded solos by one of the greats, along with some related exercises to help both improve technique and find ways of using melodic ideas in other solos.
Class sessions take place on Tuesdays at 2 pm and 9 pm eastern time (they're the same—we've added the 2 pm time for the convenience of students in the UK and Europe, but anyone who finds the time convenient is welcome to join! And students can attend both sessions if they want to). Practice/review sessions will take place on Saturdays at 12:30 pm eastern time. The week of February 21 will be off.
The course is recommended for intermediate to advanced players.
Week 1 (1/10)
Bill Monroe
Melodic Exercise I
Chord Tone Exercise in a Few Keys
Rhythms using down-strokes
Picking Exercise I
Y'All Come
Columbus Stockade Blues
Week 2 (1/17)
Bobby Osborne
Picking Exercise II
Double Stops and Positions in D
Some syncopated licks
Reuben
Sledd Ridin'
Week 3 (1/24)
Dempsey Young
Triplet Patterns
Playing up the neck in D
Some chromatic patterns
Dempsey's Run
Virginia That's My Home
Week 4 (1/31)
Butch Baldassari
Various positions in E
Moving between positions
Double stops in E
The Jackrabbit Trail
Old Town
Week 5 (2/7)
Herschel Sizemore
Picking Exercise III
Melodic Exercise II
A few up the neck licks
Cincinnati Rag
Durham's Bull
Week 6 (2/14)
Jesse McReynolds
Crosspicking Exercises I and II
Double stops up the neck in various keys
How to create crosspicking solos
Salty Dog Blues
I Wish You Knew
Week 7 (2/28)
Tim O'Brien
Picking Exercise IV
A few jazz-influenced licks
Open strings in B
Some more position shifts
Look Down that Lonesome Road
Country Boy Rock & Roll
Week 8 (3/7)
Adam Steffey
Picking Exercise V
A few bluesy chromatic runs
More position shifts
Another Night
East Tennessee Blues
The course fee is $225.
Register for Advanced Bluegrass Mandolin Soloing with Matt Flinner