Old-Time Mandolin 101: Old-Time Songs and the Carter Family Curriculum (1/11-3/12)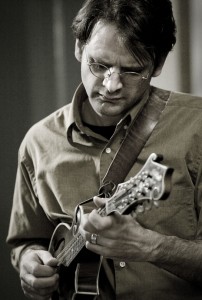 "This was the best online learning experience I've ever had. And, for the time and money, the best music learning experience in any format: DVD, video, group, or individual live lessons."—Christine R.
"This is the best learning format ever and I like your approach very much."—Marty C.
Register for Old Time Mandolin 101: Songs and Rhythm with Matt Flinner
See the Old Time Mandolin 102: Tunes and Techniques curriculum (Jan 12-March 19)
See the Advanced Fiddle Tunes and Improvisation for Mandolin curriculum (Jan 11-March 19)
This course will focus on getting students more familiar with Appalachian old-time songs and help them improve their mandolin fundamentals along the way. Students will get pointers on how to maximize their tone, various approaches to rhythm playing and chords, making use of open strings, double stops as well as learning a new song (or two or three!) each week. Each week, we'll look at two standard songs from the old-time repertoire, plus one song from the Carter Family (some of which are also part of the old-time repertoire). We'll learn ways of playing lead starting with simple melodies, then gradually progressing to more advanced concepts such as adding double stops, changing octaves, stepping away from the melody and more.
The course is intended for students at a beginner to intermediate level. More advanced students may benefit from the tone exercises and focus on fundamentals (plus learn some great tunes!).
60-minute class sessions take place online every Monday evening from January 11th to March 7th at 9 pm eastern time, and 45-minute practice/review sessions take place every Saturday morning from January 16th through March 12th at 10 am eastern time. The week of February 7th is off due to Matt's tour schedule.
NOTE: It is helpful, but not essential, to be present for the live sessions. All class sessions are recorded and available to view on the class website by the following day. Here is the curriculum:
WEEK 1 (1/10)
Backup in D
Picking Exercise I
Getting a full tone with open strings
Been All Around this World
I Wish I Was a Mole in the Ground
Fond Affection
WEEK 2 (1/17)
Backup in G
Drone strings in G
Picking Exercise II
Peg and Awl
Way Down in North Carolina
Cannonball Blues
WEEK 3 (1/24)
Using some double stops in lead and backup
Double Stop Exercise I
Mixing lead and backup
Chilly Winds
I Truly Understand
When the Springtime Comes Again
WEEK 4 (1/31)
Backup in A
Getting some blue notes in your playing
Double Stop Exercise II
Old Jaw Bone
Skillet Good and Greasy
Broken Hearted Lover
WEEK 5 (2/14)
Waltzes
Waltz time backup
Double Stop Exercise III
The Blackest Crow
Jack of Diamonds
Beautiful Isle o'er the Sea
WEEK 6 (2/21)
Playing in C
Open drone strings in C
Double Stop Exercise IV
Say Darling Say
Rove Riley Rove
Faded Flowers
WEEK 7 (2/28)
Getting the tempo up
Picking exercises for speed
Backup on faster tunes
The Coo-Coo
Fall on My Knees
Little Joe
WEEK 8 (3/7)
Tying it all together
Drone strings, octave changes and blues
More double stops in backup
Way Down the Old Plank Road
Hop High My Lulu Gal
When Silver Threads Are Gold Again
The course fee is $225.