Octave Mandolin Techniques with Matt Flinner Curriculum, 3/31-5/29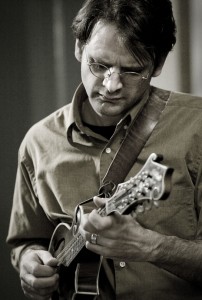 "Your method, approach, pace and materials are the best I've seen in my years of perpetual learning."—Jim H.
"Matt is a brilliant teacher. Every course is deep and rich with information. The material is thoughtfully explained, allowing a student to slowly transform the class material into music. I can't imagine this journey without Matt Flinner. His courses are a true life changing musical experience!"—Lisa S.
"Your course was exactly what I have been looking for. It was well structured with a ton of good material. I like that fact that we were given tunes to learn but also tools that allows me expand the lessons beyond the course tunes to others that I already know."—Todd M.
Register for Octave Mandolin Techniques with Matt Flinner
See the Fiddle Tunes for Mandolin 101 curriculum
See the Advanced Fiddle Tunes for Mandolin curriculum
Join Matt Flinner for an online course exploring the wonders of that rare but fun-to-play instrument, the octave mandolin. This course will teach students how to play backup in various keys plus lead on fiddle tunes, folk melodies, Irish tunes and more. Hints on how to get around on this bigger instrument will help students play melodies and backup with more facility and flexibility. Each week, students will be given two songs or tunes to learn lead (if they want to) and backup to, along with exercises to help make more sense of the fretboard and help students make the most of this beautiful instrument.
The course is intended for students of all ability levels. Exercises will be given at a variety of levels each week, and students will be encouraged to focus on the exercises and/or tunes that are best suited to their level. Students do not necessarily need to have an octave mandolin to take the course; all exercises and tunes can be played on a regular mandolin—though the fingering will be different.
Here is the curriculum for the Octave Mandolin Techniques course:
WEEK 1 (3/31)
Playing basic chord progressions in G, D and A
Using open chords and some variants
Adding basslines in rhythm playing
Nine Pound Hammer
When You and I Were Young, Maggie
WEEK 2 (4/7)
Using a capo for difficult keys
Fingering melodies I
Scales in G, D and A
Using open strings and chords
Sweet Sunny South
Billy Gray
WEEK 3 (4/14)
Three note chords
Adding some minor chords
More basslines
Cold Frosty Morning
Rights of Man Hornpipe
WEEK 4 (4/21)
A couple of fiddle tunes
Adding slides to melodies
Crosspicking patterns
Bonaparte Crossing the Rhine
Elk River Blues
WEEK 5 (5/5)
Double stops in lead and backup
Double stop exercise in D
Getting up the neck a little
If I Had a Boat
Poor Ellen Smith
WEEK 6 (5/12)
Irish tunes
Playing lead and rhythm on jigs
Picking Exercise II
Strumming patterns on jigs
Double stops in backup II
Tripping Up the Stairs
Merrily Kiss the Quaker
WEEK 7 (5/19)
Irish Tunes II
Double stops in backup III
Using chord substitutions
The Musical Priest
Mulqueen's
WEEK 8 (5/26)
Tying it all together
More advanced fingerings
Double stops and 3-note chords in lead playing
Ships Are Sailing
Arthur McBride
The course fee is $225. Register here.