Swing Mandolin Rhythm Curriculum (9/29-12/5)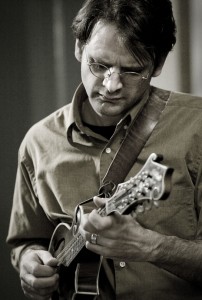 "After buying six mandolins and umpteen books…I am convinced your course is best $100 I have invested in my mandolin journey to date. Finally, I'm getting the discpline I need with your exercises to learn scales, arpeggios, double stops, fingering techniques, learn the fretboard (the essential tools I need)…and most importantly to learn how those things fit into playing tunes."—Rick D., Bluegrass Mandolin 101 student
"I have to say that making everything available online is a great convenience for me. Being able to stop and return to a more challenging exercise or a newer phrase is a great for learning. I also really appreciate your availability to answer questions offline. This is a great course, and I feel as though I'm improving daily because of it."—Joe C., Bluegrass Mandolin 101 student
See the Folk and Bluegrass Mandolin Rhythm Curriculum
See the Music Theory for Mandolin Players Curriculum
New this fall is a course focusing solely on playing rhythm in swing and jazz—something we do probably 90% of the time when we're playing with other people in a swing jam session or other group setting! This course will help students learn how to play backup on 16 swing/jazz standards, using various chord forms in various keys to get a handle on how to play rhythm smoothly and learn more of the fretboard along the way. Basic chord forms will be given, and the course will gradually build on these into chord inversions, extensions, typical movement within common progressions and, eventually, even a bit of chord melody playing Songs will be taught in several keys to help students get more comfortable with the fretboard and gain more confidence to be able to play more effectively in jam sessions. Each week, students will be given chord exercises and rhythm exercises along with two or more songs to practice. The goal will be to help students become more adept at playing rhythm, develop a more solid sense of timing, and to be able to add chords into melodic soloing.
The course is intended in general for intermediate-level students, or to any students wanting to explore various styles of backup playing.
Classes meet every Tuesday at 9 pm eastern time, with practice/review sessions on Saturdays at 11 am eastern time. The weeks of November 3 and 24 are off, so there will be a total of eight class sessions and eight practice/review sessions over the course of 10 weeks.
Register for Swing Mandolin Rhythm with Matt Flinner
WEEK 1 (9/29)
Basic swing rhythm
Major chord inversions
Dominant 7 inversions
Moving between inversions in your backup playing
The Sheik of Araby
Sweet Georgia Brown
WEEK 2 (10/6)
Minor chords
Minor chord inversions
Major 6 and Major 7 chords
St. James Infirmary
St. Louis Blues
WEEK 3 (10/13)
ii-V-Is
ii-V-Is in a couple of positions
Minor 7 chord inversion exercise
Lady Be Good
Broadway
WEEK 4 (10/20)
Adding some diminished passing chords
Continued work on ii-V-Is in various keys
Moving ii-V-I inversions
Honeysuckle Rose
Night and Day
WEEK 5 (10/27)
Diatonic chord movement
Adding extensions on Dominant 7 chords
ii-V-Is using extensions
Pennies from Heaven
This Can't Be Love
WEEK 6 (11/10)
Minor ii-V-is
Adding extensions continued
Half-Diminished chord inversions
Autumn Leaves
How High the Moon
WEEK 7 (11/17)
I-VI-ii-Vs-Is
Various inversions in I-VI patterns
Variations and chord substitutions
Stormy Weather
Just You, Just Me
WEEK 8 (12/1)
Working toward chord melody
Using inversions to create melody
Improvising with chord inversions
Satin Doll
Rose Room
The course fee is $225.