Western Swing Mandolin Curriculum (April 3-June 8)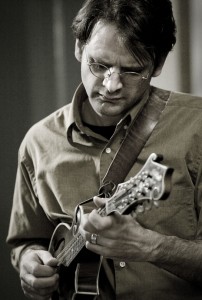 "I started playing the mandolin a little over two years ago. I played the piano as a child, but having never played a stringed instrument before, my intention was to study as much as I could about technique, theory, improvisation and the various genres of music for the mandolin.
To that end, I have taken nearly every course Matt has offered, even three at a time! Matt is a brilliant teacher. Every course is deep and rich with information. The material is thoughtfully explained, allowing a student to slowly transform the class material into music. I can't imagine this journey without Matt Flinner. His courses are a true life changing musical experience!"—Lisa S.
"Your classes are moving me forward so very much. Thank you." —Jean C.
Register for Western Swing Mandolin with Matt Flinner
See the Swing Mandolin 101 curriculum
See the Mandolin Chord Melody curriculum
New this spring, Western Swing Mandolin with Matt Flinner will take students on a journey through the music of Texas dance halls in the 1930s and 40s. Drawing mostly from the music of Bob Wills and the Texas Playboys, but also the likes of Milton Brown and Hank Thompson, the course will introduce students to the unique combination of early country music and jazz that became Western Swing. Students will learn one (or two if they choose) standard song per week, and will be given exercises to help them play lead as well as backup, all with the intent of getting more familiar with the harmonically rich vocabulary of Western Swing Music. We'll also look at at least one solo per week by one of the greats (Johnny Gimble, Tiny Moore, Leon McAuliffe, etc.) in this style.
This course is intended for intermediate-level students, though students at all levels who are intersted in Western Swing may find it helpful. A minimum rudimentary knowledge of chords and some fiddle tune melodies is recommended.
Here is the curriclum:
WEEK 1 (April 3)
Simple chord progressions
Looking at chord tones
A few melodic lines
Melodic Pattern 1
Yearning
Take Me Back to Tulsa
WEEK 2 (April 17)
Extensions: 9 and 13 chords
Melodic Pattern 2
Sugar Moon
Corrine, Corrina
Miss Molly
WEEK 3 (April 24)
Using arpeggios
Major, Dominant and Minor arpeggio exercises
Melodic Pattern 3
Steel Guitar Rag
Taking Off
WEEK 4 (May 1)
More with chord tones
Some more melodic lines
Melodic Pattern 4
Smoke, Smoke, Smoke That Cigarette
Driving Nails in My Coffin
WEEK 5 (May 8)
I-VI-II-V Progressions
Lines over the I-VI-II-V progression
I Hear You Talking'
Roly Poly
WEEK 6 (May 22)
A bit of twin fiddle harmony
Creating harmonies based on chord tones
Faded Love
San Antonio Rose
WEEK 7 (May 29)
Diatonic arpeggio lines
Fat Boy Rag
Three Guitar Special
WEEK 8 (June 5)
Tying it all together
Arpeggios, melodic lines, chord tones, extensions
Yellow Rose of Texas
Remington Ride
The course fee is $225.
Register here for Western Swing Mandolin with Matt Flinner