American Roots Mandolin with Matt Flinner Curriculum (1/9-3/16)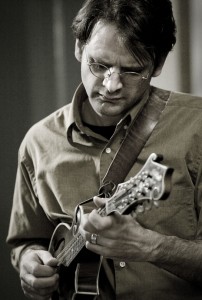 "This was the best online learning experience I've ever had. And, for the time and money, the best music learning experience in any format: DVD, video, group, or individual live lessons."—Christine R.
"Your classes are moving me forward so very much. Thank you." —Jean C.
Register for the American Roots Mandolin course here.
Brand new this winter is a course that will take us on a journey through traditional roots musics across America. The American Roots Mandolin course will explore many of the myriad styles of roots musics around the country, from Appalachia to New Orleans to New England to the desert southwest. And all on the mandolin! Along the way, we'll explore various aspects of technique and learn more of the fretboard—and likely find many common threads that unite these musics within the great American cultural tapestry.
Old-time, blues, Cajun music, contra dance, ragtime, early jazz, cowboy traditions and bluegrass music will all be touched on in this 8-week long course. Two to three tunes will be given each week, with the lesson focusing on one of them in particular, along with several exercises to help with related technique. Students are encouraged to learn whichever tune(s) suit(s) their ability level and/or interest.
This course is recommended for advanced beginner through intermediate players, but players of any ability level who want to get a taste of various musical styles are encouraged to join as well!
The course will take place on Wednesday evenings at 9 pm eastern time, with follow-up practice sessions on Saturdays at 12:15 pm eastern time (note: the weeks of February 4th and March 4th are off due to Matt's tour schedule).
All live sessions are recorded and available to view on the class website, as well as to download for off-line viewing in the future—so being there for the live sessions is not essential.
Here is the curriculum:
WEEK 1 (1/9)
Southern Old-time Fiddle Tunes
Picking Exercise I
Using open strings as drone strings
Flop-Eared Mule
Cotton Eyed Joe
Devil in the Woodpile
WEEK 2 (1/16)
The Blues
7th chords
Blues licks
A couple of blues grooves
Whiskey Head Blues
Tappin' That Thing
Nobody's Fault But Mine
WEEK 3 (1/23)
Ragtime
Picking Exercise II
Ways of playing I-VI-II-V chord progressions
Using chord tones
State Street Rag
Hawkins Rag
WEEK 4 (1/30)
Cajun Tunes
Using open strings
Picking Exercise III
Double stops in A and D
Playing backup double stop parts
Jolie Blonde
Lacassin Special
WEEK 5 (2/13)
The Cowboy Tradition
More double stops
Playing in positions
Tremolo
When the Work's All Done Next Fall
Bury Me Not on the Lone Prairie
WEEK 6 (2/20)
New England Contradance Tunes
Picking Exercise IV
Adding ornaments
Old French
Valse Mon Pére
WEEK 7 (2/27)
Early Jazz
Swing rhythm playing
More use of chord tones
Adding the blues
St. Louis Blues
Milenburg Joys
Creole Love Call
WEEK 8 (3/13)
Bluegrass
Picking Exercise V
G-F Double Stop Exercise
E Double Stop Exercise
Bluegrass Breakdown
Watson's Blues
The course fee is $225.
Register for American Roots Mandolin with Matt Flinner
See the Bluegrass Mandolin 101 curriculum
See the Advanced Bluegrass Mandolin curriculum
Questions? Email [email protected]