Gypsy Swing Mandolin Jamming II Curriculum (8/13-9/8)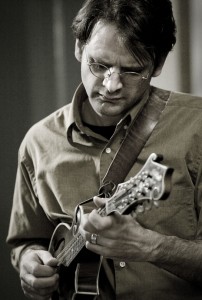 "Your courses have opened my musical mind, focused my practice and expanded my skill far beyond expectation."—-Steve F.
"I have taken nearly every course Matt has offered, even three at a time! Matt is a brilliant teacher. Every course is deep and rich with information. The material is thoughtfully explained, allowing a student to slowly transform the class material into music. I can't imagine this journey without Matt Flinner. His courses are a true life changing musical experience!"—Lisa S.
Register for the Gypsy Swing Mandolin Jamming II course
See other courses offered this summer.
This course is intended to help the aspiring mandolinist build up repertoire and find ways of creating new solos over Django Reinhardt-style Gypsy swing tunes; it's also designed in the hope that it will encourage students to get out and jam with other players!
Each week, we'll look at four Gypsy swing standard tunes with a particular concept in mind—chromatic chord progressions, VI/ii/V/Is etc. Students will be given lead sheets (in standard notation and tablature) for each song, as well as a few exercises to help them learn more about the fretboard and start incorporating new ideas into their solos. Concepts and tunes will be taught during the class session, and all tunes will be revisited during Saturday practice sessions in a "jam session" format, where each song is played several times though, and students have the opportunity to try out some of the week's concepts on the tunes (with guidance from Matt). Ways of playing the chord progressions will also be suggested, so students will have a guide for playing backup as well as lead and improv on all four tunes.
Classes meet Monday evenings from August 13 to September 3 at 9 pm eastern time. There will also be 45-minute review sessions every Saturday morning from August 18 to September 8 at 10 am eastern time.
The registration fee is $125. Register here.
Here is the course curriculum:
WEEK 1 (August 13)
A few relatively simple chord progressions
Arpeggiating through chord progressions
Analyzing scales and how they relate to chords
Swing from Paris
Runnin' Wild
In the Still of the Night
Believe It, Beloved
WEEK 2 (August 20)
Some I-VI-ii-V-I progressions
VI-ii-V-I Chord inversions
Smooth chord tone transitions
Swing 42
Nagasaki
Daphne
I'se a-Muggin'
WEEK 3 (August 27)
Chromatic chord progressions
Using similar ideas from chord to chord
Chroamtic scale exercise
Hungaria
Swing '39
Black and White
Djangology
WEEK 4 (September 3)
More complex chord progressions
Further arpeggio exercises
Scale and arpeggio practice routines
Avalon
Nuages
Tears
Chasing Shadows
Register for the Gypsy Swing Mandolin Jamming II course
See the Bluegrass Mandolin Jamming II curriculum
See the Music Theory and Mandolin Fretboard Exercises II curriculum