New Acoustic Mandolin with Matt Flinner Curriculum, 4/5-6/11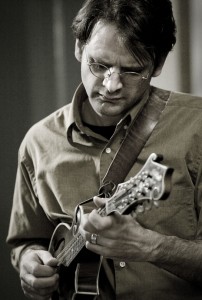 "I have done some online courses, some one-on-one instruction and some camps. The course I just finished with you has been the most useful by a pretty large margin. Thanks for both the thought and effort that went into the design and material preparation and for the personal presence you bring to it."—Steve F.
"I got a lot out of it! Everyday I have a practice routine based of the summer intensive. You have helped me by leaps and bounds."—Sandy N.
Register here for the New Acoustic Mandolin with Matt Flinner course
See the Octave Mandolin Techniques with Matt Flinner Curriculum
See the Mandolin Fundamentals with Matt Flinner Curriculum
"New Acoustic" music has come a long way since it first started up some 40 years ago. What was started by the likes of David Grisman, Tony Trischka, Sam Bush and others in the 1970s as an outgrowth of bluegrass and jazz has grown into a wide-ranging music incorporating elements of rock and roll, Hot Club Jazz, folk music, old-time music and more. We'll explore this modern frontier of music and give students many of the tools they'll need to play the tunes as well as improvise and play backup in new ways with new rhythms. Tunes by the masters listed above, plus a few from Tony Rice, Darol Anger, Bela Fleck and other pioneers of New Acoustic music will be featured, along with exercises to help students learn the fretboard and improve their fundamental skills—all for the purpose of playing more effectively in any style (and, especially, having more fun playing the mandolin!).
This course runs from April 5 to June 11. Classes take place on Tuesday evenings at 9 pm, and follow-up practice sessions take place on Saturdays at 11 am eastern time. While it is recommended, students do not need to be present for the live sessions, as all sessions are recorded and available to view by the following day. Students may also download all class sessions and watch them offline at their convenience.
This course is recommended for students at an intermediate to advanced level.
The course fee is $225. Register here.
WEEK 1 (4/5)
New Acoustic Fiddle Tunes
Slightly more complex chord progressions
Variations using octaves and chord tones
Major scale exercises
Picking Exercise I
Cazadero
Blue Mountain
WEEK 2 (4/12)
Major 7, Dominant 7 and Minor 7 chord forms
Some David Grisman rhythms and licks
A few blues ideas
Acousticity
A Robot Plane Flies Over Arkansas
WEEK 3 (4/19)
Some jazz waltzes
Rhythmic patterns in the jazz waltz
Using chord tones
Some positions up the neck
Devlin
Waltz for Indira
WEEK 4 (4/26)
Minor Keys
Mixolydian and Dorian modes
Melodic patterns
A few minor licks
Picking Exercise II
Tzigani
Katmandu
WEEK 5 (5/4)
Some Latin rhythms
Diatonic 4-note chord exercise
More with chord tones
Mugavero
Redhill
WEEK 6 (5/17)
Advanced New Acoustic rhythms
Going between 4/4 and 3/4
Rhythmic exercise II
Rattlesnake
Slipstream
WEEK 7 (5/24)
Some rock and funk rhythms
Some Sam Bush grooves and licks
Picking Exercise III
Stingray
The Lochs of Dread
WEEK 8 (5/31)
Tying it all together
Advanced chord progressions
Using chord tones
More melodic patterns
Using various grooves in a tune
Neon Tetra
Key Signator
The course fee is $225.