Online Master Class September 12!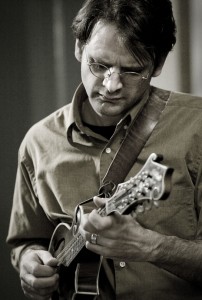 "I have done some online courses, some one-on-one instruction and some camps. The course I just finished with you has been the most useful by a pretty large margin. Thanks for both the thought and effort that went into the design and material preparation and for the personal presence you bring to it."—Steve F.
"I got a lot out of it! Everyday I have a practice routine based of the summer intensive. You have helped me by leaps and bounds."—Sandy N.
The Bluegrass Mandolin 101 program introduces live master classes for students to brush up on their skills and get live feedback from one of today's premiere mandolinists. Students will play through some exercises in a specific area of technique (picking, double stops, arpeggios, etc.) as well as a tune utilizing some aspects of those exercises. Throughout the session, students can ask questions either via audio or via a group chat window, and they can also play through a tune or exercise (or whatever they want to play) via video to get feedback and suggestions from Matt. Group discussion is encouraged—we can all learn from each other! The sessions are 90 minutes long, and will take place on August 25th and September 12th. Class fees are just $35, and space is limited to 15 attendees.
Students are not required to use a webcam or microphone—both are optional. If students do want to be seen and heard by Matt and the rest of the group (which is encouraged!), they will need either a built-in webcam or external webcam as well as either an internal microphone or external microphone. Smart phones (iphones, etc.) and ipads will work with no added hardware, as will any laptop or desktop computer with built-in cameras and microphones.
The online master classes will be recorded so that students can either stream (via a private link) or download the videos for review.
Here are the curricula for each master class:
Picking Exercise I
Picking Exercise II
Practicing with a metronome
Tremolo Exercise I
Molly Put the Kettle On
Double Stop Exercise in G
Double Stop Exercise in C
Getting good tone from double stops
Double Stops Across a Chord Progression
I'm So Lonesome I Could Cry
Register for Picking Exercise Master Class with Matt Flinner (8/25)
Register for Double Stops Master Class with Matt Flinner TBA)
See fall courses offered in Blues, Bach and Monroe-Style Mandolin