Bill Monroe Tunes for Mandolin Curriculum (1/8-3/10)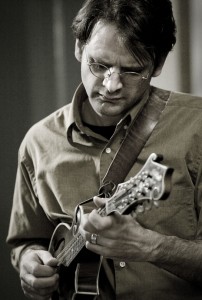 "I'm loving the instruction and all the materials, it's got me playing my mandolin constantly!"—James M.
"I've participated in many online learning programs, but so far, your format is the best I've ever seen. I am so pleased I happened upon your courses."—Gina M.
This course is intended to give students a broader understanding of many aspects of bluegrass mandolin playing through the music of the greatest writer of mandolin tunes—Bill Monroe! Students will explore fundamental aspects of technique (picking exercises, double stop exercises, tremolo and more) to help them at any ability level while learning some great (and often lesser-known) Bill Monroe tunes. Each week, students will be given two tunes relating to various aspects of technique, along with several exercises and suggestions for playing backup and creating variations on the tunes. Classes will meet on Monday evenings at 9 pm eastern time, and follow-up practice sessions will take place on Saturday mornings at 10 am eastern time. Although students are more likely to get more direct interaction with the instructor during the live sessions, it is not necessary to attend all (or any) of the live sessions! All sessions are recorded and available to view on the class website by the following day.
Students also have access to short (1-3 minute) practice videos each week, along with mp3s to practice with at various tempos and PDFs of all of the written exercises and tunes. Students are invited to download all materials (including short practice videos and recorded videos of all class sessions) so that they can view and/or listen to them at any point in the future after the course has concluded.
The course is intended for players at an intemediate level, though advanced players as well as advanced beginners can benefit from the exploration of fundamentals to strengthen technique (plus learn some tunes they didn't know before!).
The course fee is $225.
See the Crosspicking Mandolin with Matt Flinner curriculum
See the Appalachian Tunes and Techniques curriculum
WEEK 1: Getting open strings in the mix
Picking Exercise I
Picking Exercise II
Two ways of playing backup
My Father's Footsteps
Northern White Clouds
WEEK 2: Double stops
Double stop exercises in A
Double stop exercise in G
Tallahassee
The Long Bow
WEEK 3: Some classic Monroe licks
Chop chord position playing
Double stops in chop chord position
Tombstone Junction
Virginia Darlin'
WEEK 4: A couple of waltzes
Tremolo exercise
Tremolo with double stops
Melissa's Waltz for JB
Mississippi Waltz
WEEK 5: Some minor key tunes
A couple of ways of playing minor chords in backup
Minor double stop exercise
The Old Mountaineer
Crossing the Cumberlands
WEEK 6: Bluesy Tunes
A couple of advanced Monroe licks
Bluesy licks
Picking Exercise IV
Blue Grass Stomp
Tennessee Blues
WEEK 7: A couple of fast ones
Picking Exercise for Speed
Playing double stops at fast tempos
Whitehorse Breakdown
Rawhide
WEEK 8: Some more advanced tunes
Picking Exercise V
Old Ebenezer Scrooge
Right, Right On
Bonus Material: a few classics to know (these will be given at the begining of the course, and played occasionally during practice sessions).
Gold Rush
Wheel Hoss
Big Mon
The Road to Columbus
Register for Bill Monroe Tunes for Mandolin.
See the Crosspicking Mandolin with Matt Flinner curriculum
See the Appalachian Tunes and Techniques curriculum