New CD: "Traveling Roots" by the Matt Flinner Trio Available Now!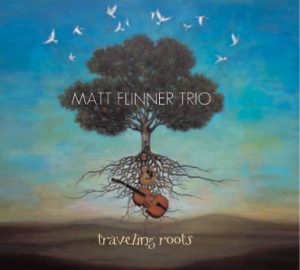 Over the past decade, the Matt Flinner Trio has been on the cutting edge of the 21st century string band movement. All master composers and improvisers, the trio has become legendary for their ability to almost simultaneous compose and perform new music. Their past two albums have developed this "music du jour" concept—drawing on whatever inspires them that day to compose a new tune and then performing it that evening. Their collective ability to conjure great melodies out of the ether and deliver them in front of a live audience has earned the group a reputation as one of the most imaginative and fearless in the contemporary instrumental space. But on Traveling Roots the trio has set their musical sights on seeking out and delivering beautiful music. Band leader and mandolinist Matt Flinner explains: "I feel that our goal as musicians should be to try to add some bit of beauty to the world. I see this as our small, esoteric string band bluegrass-jazz-new acoustic living on the 17th-moon-of-Saturn contribution to that.  We hope that all of the sweat, frustration, love and aspiration that we put into this music makes your world a little more beautiful."
Order a copy of "Traveling Roots" here.
The Matt Flinner Trio (Matt Flinner, mandolin; Eric Thorin, bass and Ross Martin, guitar) will be playing many shows throughout the winter and spring of 2016 as part of their CD release tour.  On several selected shows, all three members of the trio will be writing tunes the day of the show for special guests!  Andy Hall (Dobro) and Jake Schepps (banjo) will be joining the trio on a couple of their Colorado dates in January; Tony Trischka, Darol Anger, Jamie Masefield, Joe Walsh and Frank Vignola will be special guests on their February northeast tour.  More info here.
"Matt Flinner blurs the lines between jazz and bluegrass, traditional and avant-garde." —The Associated Press
"Matt Flinner (is) one of the best mandolin players ever." —Downbeat
One of the hottest mandolin players on the acoustic scene, multi-instrumentalist Matt Flinner joins trio partners, Ross Martin (guitar) and Eric Thorin (bass) in an experiment gone right.
Pre-order "Traveling Roots."