Bluegrass Mandolin 103: Advanced Bluegrass Curriculum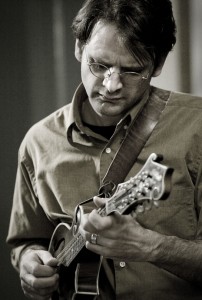 Sign up by March 1st and get $25 off!
"I've practiced more in two weeks than I have in months! Really, I was amazed at the time, feedback, and focus you gave us on chat questions, emails, and mp3s. I was very impressed and feel better about my confidence level, how I play and focus now. The course just worked for me and got me over a hump in terms of my motivation and focus."—Donna O.
"I have to say that making everything available online is a great convenience for me. Being able to stop and return to a more challenging exercise or a newer phrase is great for learning. I also really appreciate your availability to answer questions offline. This is a great course, and I feel as though I'm improving daily because of it."—Joe C.
Explore the wide and wonderful world of modern bluegrass mandolin with Grammy-nominated mandolinist Matt Flinner. This course picks up where Bluegrass Mandolin 102 leaves off, and will lead students through advanced subjects including more difficult keys, using double stops and positions as well as melodic patterns, and getting a more thorough knowledge of the fretboard. The styles of such players as Doyle Lawson, Adam Steffey, Sam Bush, David Grisman and Ricky Skaggs will be discussed, giving students more options in their approaches to soloing and playing backup. Modern and older standards by the likes of Bill Monroe, J.D. Crowe and the New South, Del McCoury, Alison Krauss, Flatt and Scruggs and Tony Rice will be explored. It's a fun way to expand your chops and learn some new tunes!
Sign up by March 1st and get $25 off! All courses are just $175 ($25 off the regular course fee of $200) through 3/1.
Register here.
Go back to the info page here.
BLUEGRASS MANDOLIN 103; ADVANCED BLUEGRASS CURRICULUM:
WEEK 1 (3/29)
Two approaches to the Key of G
Double stops in G and licks that arise from them
Moving between positions
A few melodic patterns
I've Endured
I Wonder Where You Are Tonight
WEEK 2 (4/5)
The Key of F
A few positions in F
Moving double stops from chord to chord in various positions
Double stops over a scale
Don't Let Your Deal Go Down
Rock Salt and Nails
WEEK 3 (4/12)
The Key of B
Using various positions in B
Double Stop Exercise in B
Some licks using open strings in B
Blue Night
Born to Be With You
WEEK 4 (4/19)
A couple of more advanced instrumentals
Exercises using various forms of double stops
Creating melodies mixing double stops and lines
A few more melodic lines in G
Roanoke
Back Up and Push
WEEK 5 (4/26)
The Key of E
Using open strings in E
Various double stop positions in E and moving between them
Licks specific to the key of E
Dark As the Night, Blue As the Day
Every Time You Say Goodbye
WEEK 6 (5/4)
Cross Tunings
Playing chords in cross tunings
A few melodic patterns to try
Varying the melody in subtle ways
Get Up John
Black Mountain Rag
WEEK 7 (5/9)
Different Rhythms
Applying picking patterns to various rhythms
A bit of Cross-picking
Deep Elem Blues
Devil in Disguise
WEEK 8 (5/24)
The Key of Bb
Using open strings in Bb
Various closed positions in Bb, and moving between them
A few handy melodic runs
Big Spike Hammer
I'm Knockin' on Your Door
Register for Bluegrass Mandolin 103: Advanced Bluegrass here.
Go back to the info page here.