Bluegrass Mandolin 102 Curriculum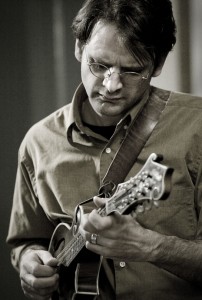 Sign up for two courses and get $50 off! Use the discount code "bigmon" when you register for your second course for a course fee of just $150.
"Thanks for the terrific class! I had my mandolin lurking in the corner for 9 months before I took this class. I played with it now and then but felt out of my depth, having only played piano in the past. A few weeks into your class, I couldn't put down my mandolin, practicing far more than my kids want me to. In addition to the wonderful tunes we learned in class, I started to pick out other melodies like Christmas carols, simple gifts, harry potter, star wars; anything I hear I want to find it on the mandolin."—Randy R.
"I'm really enjoying the course. The first time I've actually practiced an instrument in my 60 years!"—Skip H.
Bluegrass Mandolin 102 will start at an intermediate level and progress to an intermediate/advanced level. This course will take double stops and position playing further along from where the 101 course leaves off. Topics will include moving between various positions, transposing double stops and positions to various keys, using double stops in improvisation, adding more licks, crosspicking and playing in more challenging keys—including B! Students will be given two standard bluegrass songs each week (and will be encouraged to learn at least one of them) while learning how to apply various exercises from the week to their playing.
The course runs from March 28-May 27, and is intended for intermediate to advanced players. Classes take place Tuesday evenings at 9 pm eastern time, and review sessions take place on Saturday mornings at 11 am eastern time (note: the week of May 1st is off, due to Matt's tour schedule).
The course fee is $200. Sign up for two courses and get $50 off! Use the discount code "bigmon" when you register for your second course for a course fee of just $150.
Register here.
Go back to the info page here.
BLUEGRASS MANDOLIN 102 WITH MATT FLINNER CURRICULUM:
Week 1 (3/28)
Re-introduction to double stops
Picking Exercises I
Playing some fills
Keys of G, A, and D
Little Cabin Home on the Hill
Bonus tune: Little Joe
Week 2 (4/4)
Shifting positions
Double stop exercises in C and F
Adding some V-I licks
East Virginia Blues
Bonus Material: I Ain't Gonna Work Tomorrow
Week 3 (4/11)
Minor Keys
Minor double stop exercises
Wayfaring Stranger
Bonus tune: There Is a Time
Week 4 (4/18)
The Blues in Bluegrass
Finding blue notes
Blues licks you can throw into a tune or backup
Lonesome Road Blues
Bonus tune: Freight Train Boogie
Week 5 (4/25)
Waltz Time
Tremolo exercises
Double stops in E and B
Tag licks in 3/4 time
Down in the Willow Garden
Bonus tune: Blue Moon of Kentucky
Week 6 (5/8)
Crosspicking with double stops
Picking Exercises II
A few licks to throw in at the end of solos
Little Darlin' Pal of Mine
Bonus tune: My Walkin' Shoes
Week 7 (5/16)
Using diatonic double stops in creating melody
Diatonic double stop exercise
A few scales
Eight More Miles to Louisville
Bonus tune: John Hardy
Week 8 (5/23)
Tying it all together
Adding some licks and improvising
Combining double stops and licks
Dark Hollow
Bonus tune: John Henry
Register for Bluegrass Mandolin 102 with Matt Flinner.
Go back to the Bluegrass Mandolin 101 online program info page.