Six Essential New Acoustic Recordings
New Acoustic music has now been around for a good 40 years or so, starting with the early experimentations of people like Tony Trischka and David Grisman.  It's come a long way since its beginnings in the early 70s, and has helped bring modern string band and/or bluegrass music into what feels like a modern renaissance, with the emergence of great young bands such as the Punch Brothers, Crooked Still, The Infamous Stringdusters and so many others.  In the modern age of the internet, music gets mixed in every imaginable way; this music is not just a mix of bluegrass and jazz anymore (as New Acoustic music started, for want of a better description).  We now have classical music, funk, modern pop and traditional musics of the world (Celtic, Scandinavian, Eastern European and African styles) finding their way into the mix (among other things I'm sure I've left out).  Today, when you're a young musician playing the banjo, fiddle, guitar, mandolin, bass or Dobro, you're not stylistically limited in the way we might have imagined in the past.  A vast world of music is waiting for you, and it's an exciting, unlimited adventure that can take you to places you didn't know existed—from Dawg music to Vasen to the Goat Rodeo Sessions and beyond.  Welcome to the world of modern American string band music!
If I had to pick the five greatest New Acoustic albums (okay, CDs, errr, umm….downloads) of ALL TIME (meaning since the 1970s), I'd pick these….but after going through this list I found I'd have to add one more and make it six.  There are just too many good ones out there.  My hope is that by checking these out you might explore these artists and other related artists further to find out what all they have to offer.  New Acoustic music has grown to become a high expression of American roots musics, and I think it ought to be recognized as a unique art form.  These are six albums that helped create the foundation of this art form, and they showcase some of the most exciting music by the virtuosos of the past few decades.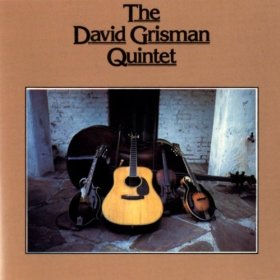 THE DAVID GRISMAN QUINTET
This is the album that really started it all.  Bill Monroe's landmark band in 1946 included Earl Scruggs, Lester Flatt, Chubby Wise and Cedric Rainwater, and is often referred to as the "Original Bluegrass Band."  This would be the New Acoustic equivalent: David Grisman (mandolin), Tony Rice (guitar), Darol Anger (fiddle), Todd Phillips (2nd mandolin) and Bill Amatneek (bass).  They created a new sound, and paved the way for so many others.  The music is sort of like bluegrass, sort of jazzy, and throughout contains particularly brilliant arranging.  David Grisman calls this "Dawg" music, and it definitely bears his unmistakable stamp.  Listen to the sometimes sparse textures on "Pneumonia" and "Fish Scale," or the intense drive of "E.M.D." and "Opus 57," or the laid-back swing of "Swing 51" and "Blue Midnite."  And it also introduces one of Grisman's early signature sounds: twin (and sometimes triple) mandolins.  "Ricochet" is an elegantly simple tune with three mandolins playing the lead and harmonies (much like Bill Monroe's triple fiddle tunes in the 60s, but sort of turned on its head) with a sparse underlying tapestry provided by the guitar, fiddle and bass.  The fiery virtuosity of Tony Rice combined with Grisman's ability to create space and drama in his music created something that was contagiously exciting and new, and would help turn on a whole new generation of young people to New Acoustic music (and, by extension, bluegrass).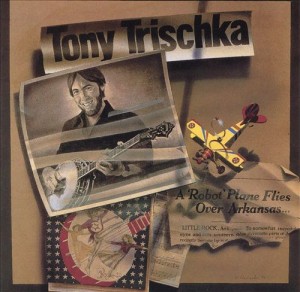 A ROBOT PLANE FLIES OVER ARKANSAS
While Grisman was busy creating "Dawg" music in the San Francisco Bay Area, a group of young players in the New York City area were creating a scene of their own.  Tony Trischka (banjo), Andy Statman (mandolin), Russ Barenberg (guitar), and Matt Glaser and Kenny Kosek (fiddles) were at the forefront of new sounds in the Northeast starting in the early 70s. This album, to me, best represents the brilliance of that scene with stellar playing by Trischka, Statman and Barenberg, along with Evan Stover on fiddle (and adding some sublime arranging).  The wonderful set of tunes are all written by Trischka, who is one of the most prolific and adventurous writers in this style.  Stylistically this album is pretty wide-ranging: from hard driving bluegrass stuff like "Purchase Grover" and "Pour Brel" to full-on New Acoustic sounds in "Blown Down Wall" and "The Navigator" to classical experimentation in "Avondale" and the title track.  Plus we get to hear some of the West Coast players: Mike Marshall, Darol Anger, Tony Rice and Todd Phillips (on bass, the instrument for which he is primarily known) join Trischka on a few of the tracks.  It's a good snapshot of what was going on on both coasts in the early 80s, and showcases Trischka's energy and creativity as well as any of his many recordings.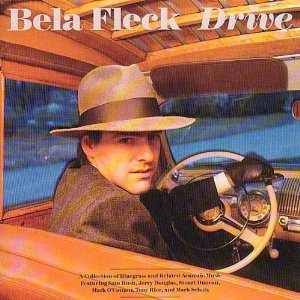 DRIVE
It's perhaps hard to label this a New Acoustic album.  This might be best classified as a bluegrass album—but its influence is (or should be) so wide-ranging that it's impossible to ignore here.  Bela Fleck, the maestro of the 5-string banjo, has put out dozens of great albums over the last 30 years, but this is the one most of us (musicians, that is) end up recommending to our friends.  During the 1970s and 80s, a young bunch of musicians were emerging that would raise the bar for bluegrass instrumental technique.  Tony Rice, Jerry Douglas, Sam Bush, Bela Fleck, Stuart Duncan, Mark O'Connor and Mark Schatz all became top players on their respective instruments, and they are all easy to find on various bluegrass recordings from, say, 1980 to the present.  But this is the project that brought them all together to do what they do best.  Like Grisman, Fleck has a knack for writing memorable melodies and creating dramatic effect in his arrangements.  He also often writes tunes that bring out the strengths of his fellow musicians:  "Up and Around the Bend" showcases Stuart Duncan and Mark O'Connor on fiddles.  And it's like a classic fiddle tune, but with a twist as Fleck puts in more space than you'd expect in the intro and the ending.  "The Lights of Home" is a great vehicle for Jerry Douglas' expressive, lyrical Dobro playing.  "Down in the Swamp" had to be written for the mandolin, and the mando/fiddle combination (plus the banjo tuned down to open E) is a great texture here that you want to hear again and again.  And it does indeed get into New Acoustic territory with the complex tune "Sanctuary," before settling back into the bluegrassy farewell of "The Open Road" (listen to the end, where the guitar, mandolin and then banjo each play a standard tag lick as if to say goodbye).  This is a brilliantly orchestrated album from start to finish, and absolutely essential listening if you want to get a sense of modern instrumental bluegrass.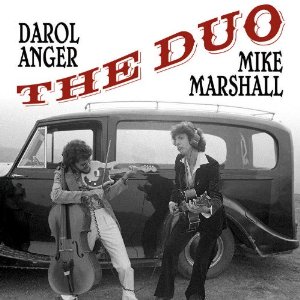 THE DUO
Mike Marshall and Darol Anger have been as adventurous and exploratory as any musicians in this style.  Seemingly boundless in energy and ideas, their duo performances are like a firecracker about to explode.  Mandolin and fiddle might not sound like the most convincing duet, but it works for these guys.  Plus they add other instruments to the mix to change up the textures; Marshall plays mandocello on a few cuts (Mike is perhaps the premier mandocellist, playing the premier mandocello in the world, built by John Monteleone), plus fiddle, guitar and mandola.  And Anger plays his signature low violin (tuned an octave lower than a normal violin), cello, mandolin and mandola as well.  Multiple mandolin textures are used beautifully on "Wall of Mando Madness" and Chick Corea's "Children's Song #6."  From the funky "Rotagilla" to the shaking out of the old "Golden Slippers" to the wild flights of "Gator's Dream," this album sounds like two young players happily exploring the edges of their creativity and making a few jokes along the way (listen to the car crash on "Donna Lee").  It's a fun ride with two of the greats.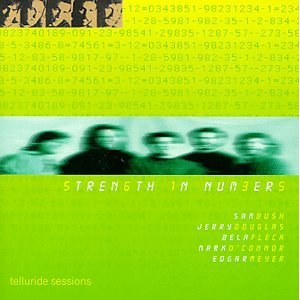 THE TELLURIDE SESSIONS
Bela Fleck, Jerry Douglas, Sam Bush and Mark O'Connor are joined by bassist Edgar Meyer to create something altogether different as the group Strength in Numbers.  Meyer's background in classical bass and composition probably has a fair bit to do with this being a wonderfully unique piece of work.  Emphasis is more on form and melodic development than on hot solos (though this album certainly has those too), and textures are crystal clear with each instrument generally serving a specific role rather than just playing rhythm.  A few tunes, like "Macedonia" and "Texas Red," are somewhat bluegrassy but still can't be pinned down as a standard "AABB" form—they develop in interesting ways to take the listener further down the road.  Guitar is surprisingly left out of the mix (my guess is for more transparency of sound); but O'Connor does get to shine on the guitar on the intense tune "Slopes," and Fleck adds guitar to the lyrical "One Winter's Night," which also features Sam Bush on fiddle to create a lovely arco texture between the two fiddles and Meyer's bowed bass.  Meyer finishes the album out with a frenzy on "The Blue Men of the Sahara,"  and we feel like we've been taken on a journey to some distant undiscovered planet.
This album, perhaps more than the others, is one that paved the way for where we are now, especially in the realm of chamber-music influenced string band music.  The Punch Brothers, led by Chris Thile, are the current pinnacle of where the bluegrass band format is today (in my humble opinion).  My guess is that they probably could not have come into existence, at least not in their wonderfully complex yet accessible way, without this album—at the very least I think it would have taken them longer to get there.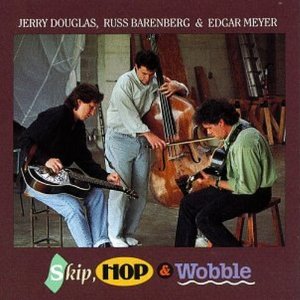 SKIP, HOP AND WOBBLE
Jerry Douglas is always worth hearing, and seems to lift the players around him to a higher plane on any recording he's part of.   Add Russ Barenberg, one of the most lyrical guitarists and greatest tune smiths around, plus the versatile virtuoso Edgar Meyer and you've got a musically stout trio.  And the writing on this album is especially strong: there are driving classics from each in Barenberg's "Big Bug Shuffle," Douglas' "From Ankara to Izmir" and Meyer's humorous "Squeezy Pig."  And lyrical ballads from each as well: Meyer's' "The Years Between," Barenberg's "Here on Earth" and Barenberg & Douglas' "Hymn of Ordinary Motion."  And there's the unforgettable "Monkey Bay."  Plus this album may be solely responsible for reviving the classic fiddle tune "Big Sciota" (featuring guest Sam Bush on mandolin), which has since become a jam standard.  This album (in my opinion) reaches a height of beauty unlike any other New Acoustic album to date, and is still just as moving to listen to as it was 20 years ago.
Like all good music, New Acoustic music will surely continue to evolve in exciting and unpredictable ways.  If you want to explore further, check out recordings by any of the artists mentioned above and see where they lead you.  And don't forget about the early Godfathers of this music, too: Django Reinhardt and Stephane Grappelli!  For my own take on this music, here are a couple more albums you might want to check out: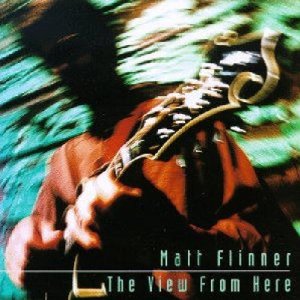 THE VIEW FROM HERE
Featuring Jerry Douglas, Todd Phillips, Darol Anger, David Grier, Stuart Duncan, Tim O'Brien and Mike Marshall.  We recorded this CD back in 1997, and David Grier, Todd Phillips (who produced it) and I were the core trio, adding fiddle players on almost all the cuts and Dobro on a few as well.  This CD was definitely influenced by many of the above musicians—Grisman's shadow is obvious on "City Chickens," and I think Jerry Douglas' sense of melody probably unconsciously had a lot to do with "The View From Here" and "The Village Road."  I was honored to have these guys be part of this project, and floored by what they did.  Stuart Duncan's double stops on "The Village Road" are sublime, and Darol Anger's spooky solo on "Nowthen" on his low violin is classic.  Plus David Grier's playing throughout is some of my favorite that I've ever heard from him.  It was an inspiring time for me for sure, and made me work a whole lot harder to try to be as good as this CD turned out to be.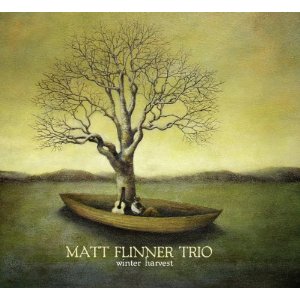 WINTER HARVEST
I get to travel and play music with two amazing musicians and wonderful human beings—Ross Martin and Eric Thorin.  As the Matt Flinner Trio, we've been doing what we call "Music du Jour" for about six years now; on most of our shows, each of us writes a new tune the day of the show and then all three new tunes are performed on that night's concert.  At the time we recorded "Winter Harvest," we had done about 70 of these shows (we've now done just over 100), and had quite a stack of material to choose from.  We picked tunes that we felt showed our strengths as a trio, and that seemed to push the boundaries for what a bluegrass trio can do.  Ross' "Arco" puts a sparse texture of guitar and mandolin in 7/8 against a bowed bass melody in 4/4.  Eric's "Wheels" uses an unexpected form (putting a solo at the end of the reading of the melody, then doing it all again followed by another solo to close things out) and another layering technique.  And "Bucolic Futurism" messes with tempos and creates a unison line that expands into three distinct voices as it moves along.  As we continue our "Music du Jour" project, we'll see where the music takes us into the future.  But all of this music owes a great debt to Grisman, Fleck, Rice, Trischka, Barenberg, Anger, Bush, Duncan, Douglas, Marshall, Phillips, Meyer, Statman, etc. etc.  If I may say, I love you all and am grateful for the music you've given us!
Now, to quote a friend, onward and upward…