The Midwest Banjo Camp and Alan Munde
The Midwest Banjo Camp has been happening for the last eight years; being a mandolin player who still loves to play the banjo, I was honored to be asked by Ken Perlman to teach this year as a bluegrass banjo instructor.  It was my first time being hired as a banjo teacher at one of these camps, so I was curious to see how it would go.
Here's my first class: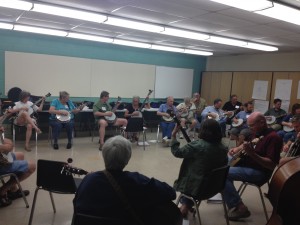 Right off the bat you've got a room full of banjos.  And though the jokes do indeed creep into my mind (the Far Side cartoon in which the classical conductor is shown to his room in Hell can't help but occur to me), you hold off because you see that these people are sincerely here to learn (plus, frankly, you're grossly outnumbered).  And they're putting themselves out there in a situation that is probably new to most of them.  And they're probably a little nervous about playing in front of everyone else.  And as time passed I began to realize that this wasn't just a banjo camp, it was kind of a safe haven where banjo players go to talk about banjos, to listen to some of their favorite players, to hang out and play banjo tunes and talk about string gauges and head tightness and alternate tunings and just be together as kindred spirits.  And for four days, guys like Bill Keith and Mac Benford are not just respected musicians, it's like they're supreme rulers of our little world on the campus of Olivet College.  And it goes without saying that they really don't need to hear the same old jokes from some jackass mandolin player.
As I enter this banjo world I'm reminded of my own banjo story: I've been a complete banjo nerd for a good part of my life (from age 10 to age 23 or so, and off and on since then).  I lived and breathed the music of Alan Munde, Doug Dillard, Bill Keith, Butch Robins, Pete Wernick, Bela Fleck and of course Earl Scruggs.  I'd sit in school and imagine having the banjo in my hands, and tuning the 4th string down to C just for fun and then try to figure out how to play the Star Spangled Banner in my head.  On the nerd scale I was probably damn near if not right at a 10.  But the banjo brought me comfort and I could lose myself in it for hours just playing "Old Joe Clark."  It was never a chore, it was just something I loved to do.
So imagine my excitement when I get to actually play with a couple of these guys—Alan Munde and Bill Keith—in jam sessions and in a few classes we were teaching together.  Here I am sitting in a circle of folks watching Bill Keith tear into "Cherokee Shuffle" in his inimitable melodic style, and I've got the next solo.  I feel a little giddy, I have to say.  And I think all the students in our circle do, too.
When I was a teenager, the record that I was obsessed with probably more than any other was one by Sam Bush and Alan Munde titled "Together Again for the First Time."  Being a big Munde fan, I tried to learn everything he played on any record I had with him on it, and that record with Sam Bush represented, to me, the height of Munde's playing.  Intricate, difficult tunes, standards played in new and exciting ways, and a relaxed yet adventurous vibe that made you laugh while your jaw was dropping.  I was also getting pretty heavily into the mandolin at that time, and Sam Bush's playing became my model.  I learned every note of his fiddle solos on "Forked Deer," and playing those solos over and over again on the mandolin was a huge part of my musical education and growth.
So anyway, we instructors were asked to play two tunes each as part of the staff concerts on Friday and Saturday nights.  Having that recording so embedded in my consciousness, how could I not ask Alan Munde to play "Forked Deer" with me?  So I did.  And he agreed.  And my banjo nerd-dom came full circle.  I was thrilled to be playing my favorite tune with one of my all-time heroes.
By the way, "Together Again for the First Time," which has been out of print for many years, is soon going to be reissued on Compass Records.  It's long long overdue, and I hope it will receive the attention and praise that it so richly deserves as a fantastic representation of the music of two giants of modern bluegrass, and as (in my humble opinion) the absolute forefront of instrumental bluegrass music of its time.
So back to the camp…by Sunday I felt pretty saturated, but there were still a couple of classes to teach, and one demonstration to give about playing fiddle tunes on the banjo.  And lo and behold, the other instructors on the session are Alan O'Bryant, Russ Barenberg and Alan Munde.  It was a great way to end the camp for me, and I got to be part of some of the most fun jamming I've done in a while with three guys I respect so highly.
If you're a banjo nerd like me and you're wondering where to go to get that little bit of inspiration or direction you feel you're lacking (or if you just want to talk about string gauges or head tightness), I'd highly recommend the Midwest Banjo Camp in 2013.