Virtual Mandolin Camp with Don Stiernberg, Alan Bibey, David Surette and Matt Flinner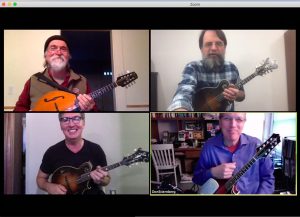 Join Don Stiernberg, Alan Bibey, David Surette and Matt Flinner for a 5-day online mandolin camp June 29-July 3. It's a great opportunity to learn bluegrass, swing and/or Celtic mandolin from some of the best players and teachers in the world! And all from the convenience of your own home.
Each day, students will be able to attend any and all class sessions offered from 11 am to 6 pm eastern time, as well as instructor performances Monday-Thursday nights and a virtual jam session Friday night at 7 pm eastern time. Students will also receive all written materials from each instructor in PDF form via email. It promises to be a great time!
Registration for the Virtual Mandolin Camp is $200, which gives students access to all live sessions, written materials and streaming recordings of all sessions after-the-fact.
Here's the schedule:
Monday-Friday (June 29-July 3) schedule:
11 am-12 noon: Matt Flinner Fiddle Tunes for Mandolin class
12:30 pm-1:30 pm: David Surette Celtic Mandolin class
2 pm-3 pm: Don Stiernberg Swing Mandolin class
3:30-4:30 pm: Alan Bibey Bluegrass Mandolin class
5-6 pm: All instructors collective workshop, question/answer period.
Monday 7-7:30 pm: Alan Bibey solo performance
Tuesday 7-7:30 pm: David Surette solo performance
Wednesday 7-7:30 pm: Matt Flinner solo performance
Thursday 7-7:30 pm: Don Stiernberg solo performance
Friday 7 pm-whenever open jam session. All students are welcome to join this "jam" hosted by Matt Flinner in which we'll play through all of the tunes taught over the course of the week! Students will not be able to hear each other (due to internet lags), but they'll be able to play along with Matt and review all the tunes they learned over the last five days.
All courses will be geared toward a general intermediate ability level; instructors will assume that students know basic chords and can play at least a few tunes.
Students will only be able to see and hear the instructor(s) during the class sessions, but they can request to have their microphone unmuted and/or webcam turned on in order to ask questions via audio and video as well. Questions will be entertained throughout each class session and especially during the afternoon workshop sessions. Students are encouraged to make the sessions as interactive as they want to!
Register for the Virtual Mandolin Camp
For more information, email [email protected]