Gypsy Swing Mandolin Curriculum (Oct 4-Dec 9)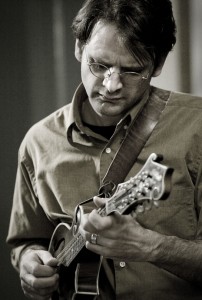 "I have done some online courses, some one-on-one instruction and some camps. The course I just finished with you has been the most useful by a pretty large margin. Thanks for both the thought and effort that went into the design and material preparation and for the personal presence you bring to it."—Steven F.
"I'm really enjoying the course. The first time I've actually practiced an instrument in my 60 years!"—Skip H.
Save $50 on two courses! Use the discount code "django" to save $50 when you sign up for your second course.
Register for Gypsy Swing Mandolin with Matt Flinner.
Get more info on other courses offered in fall 2017.
Explore the wonderful world of Gypsy Swing on the mandolin from the comfort of your own home! Matt Flinner will lead you through the classic 1930s music of Django Reinhardt and Stephane Grappelli and help you explore the fingerboard, learn new ways of playing chord progressions and help you acquire the tools you need to play and improvise in the Gypsy Jazz genre.
Each week, students will be given two tunes and a handful of exercises in scales, arpeggios, and/or chord inversions and chord movement, along with at least one transcribed Django Reinhardt or Stephane Grappelli solo from one of the two tunes. The goal will be to become more comfortable playing Gypsy Swing melodies and chord progressions, get better at improvising and ultimately get out and play this music with other people!
The course is intended for students at an intermediate to advanced level. The course will start out fairly easy (lower intermediate?), and will gradually progress to a more advanced level.
The course runs from October 4-December 9. Classes take place online on Tuesday afternoons and evenings from 2-3 pm eastern time or 9-10 pm eastern time (students are welcome to join either or both), and practice/review sessions take place on Saturdays from 11-11:15 am eastern time. NOTE: The first class session will take place on Wednesday, October 4th (at the same times of 2 pm and 9 pm eastern time) and the fifth class session will take place on Wednesday, November 1st (also at those same times) due to Matt's tour schedule and the fact that he likes to spend Halloween night with his kids!
WEEK 1 (10/4)
A Couple of Basic Chord Progressions
Finding Chord Tones for the First Chord Changes in a Tune
A Couple of Chord Inversions
Swanee River
Tea for Two
WEEK 2 (10/10)
Minor Scales: Dorian and Harmonic Minor
Minor Chords and Inversions
Starting Phrases on Chord Tones
I've Found a New Baby
My Sweet
WEEK 3 (10/17)
The Circle of Fifths
Playing Dominant 7 Chords Around the Circle of Fifths
Playing Arpeggios Around the Circle of Fifths
Billets Doux
Miss Annabelle Lee
WEEK 4 (10/24)
ii-V-Is
A Couple of ii-V-I Inversions
A Couple of Melodic Patterns
Tornerai
La Mer
WEEK 5 (11/1)
Harmonic Minor Scales II
A Few Handy Harmonic Minor Licks
Tchavolo Swing
Douce Ambiance
WEEK 6 (11/7)
I-vi-ii-V-I Progressions
Finding Chord Tones on the I-vi-ii-V-I
Triplet Patterns
Lily Belle May June
Swing Guitars
WEEK 7 (11/28)
Chromatic Chord Progressions
Chromatic Scales and Fingerings
More Triplet Ideas
Sweet Chorus
Noto Swing
WEEK 8 (12/5)
IV-#IVdim-I-VI-II-V-I Turnarounds
Two Smooth Ways of Playing Turnarounds
Diminished Chord Shapes
Diminished Arpeggios
Flat Foot Floogie
Nagasaki
The course fee is $225.
Save $50 on two courses! Use the discount code "django" to save $50 when you sign up for your second course.
See other courses offered this fall.