A Grammy Nomination for the Modern Mandolin Quartet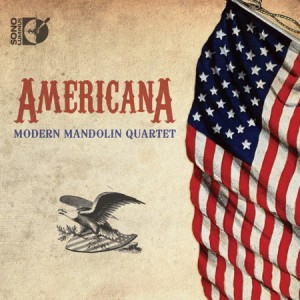 This week I got some exciting news: the Modern Mandolin Quartet received a Grammy nomination!  Our newest release on Sono Luminus Records, "Americana," has been Grammy nominated for the Best Chamber Music/Small Ensemble Performance.  The CD also received Grammy nominations for Best Engineered Classical Album (for engineer Daniel Shores) and Classical Producer of the Year (for our producers, Marina and Victor Ledin, who also produced five other classical CDs in the past year).
About a year ago, Paul Binkley (mandola), Dana Rath (mandolin), Adam Roszkiewicz (mandocello) and I went into Skywalker Sound studio about an hour north of San Francisco to record an album of American "classical" music built around a string quartet written by Antonin Dvorak that we had been playing for a while.  The album was recorded in three days in August of 2011.  All along we were surrounded by inspiration: the beautiful golden rolling hills of Skywalker Ranch around us, various Star Wars paraphernalia in display cases, George Lucas' collection of vintage movie posters dotting the walls, and Charlie Chaplin's hat, which was exhibited behind glass in one of the hallways.  Not to mention the gigantic screening room we recorded in, which is often used to record orchestral film scores.  It was also the site for the original recording of Philip Glass' "Mishima" String Quartet (which we were about to record parts of) by the Kronos Quartet—talk about big shoes to fill!

Antonin Dvorak's "American" Quartet was written during Dvorak's stay in America in 1893 in the town of Spillville, Iowa.  To that point, the United States had yet to really establish a strong and uniquely "American" sound in classical music.  Dvorak, who had incorporated Bohemian and Czech folk melodies into his own music, was brought over from Bohemia by the National Conservatory in New York to help America essentially find its own musical voice.  In this quartet you can hear bits of American folk music, Native American melody and rhythm and cowboy-sounding melodies as well.  It's a great piece, and works well in the world of mandolin family instruments.  We decided to record all four movements, and then tried to select other pieces that would round out the album with what has come to be a kaleidoscope of American sounds.  We ended up adding music by Aaron Copland, George Gershwin, Leonard Bernstein, Philip Glass and Bill Monroe, along with an arrangement of "Shenandoah" and a medley of traditional Irish tunes.
A friend of mine, Mike Iverson, reminded me the other day that he had first introduced me to the music of the Modern Mandolin Quartet about 25 years ago when he played me a cassette of their first album.  I ended up buying a CD copy (one of my first CD purchases) soon after, and I must have listened to it dozens of times.  I loved their version of the Canzonetta from Mendelssohn's String Quartet #1, and their arrangement of part of Manuel de Falla's "La Vida Breve."  It seemed to me to open up new possibilities for the mandolin, and soon I started messing with arrangements of a Stravinsky piece and tried to write some of my own music for the Quartet (I never sent any of it, as I rightly felt I had a fair bit of work to do to get it in proper shape).  And now here I am, playing as a member the group and finding out that we've been nominated for a Grammy in the Best Chamber Music/Small Ensemble Performance category.  Thanks, Mike, for introducing me to this group and thus nudging my musical direction into the gorgeous, varied and challenging world of classical mandolin.
I'm honored to be part of the Modern Mandolin Quartet and to call Paul, Dana and Adam my friends.  We hope to be touring a little more regularly over the coming few years (I'm guessing the Grammy nomination will probably help with that!), and hope to do some more recording in the near future as well.  Look for another album in the next year or so.  And I want to also say that I (and the rest of the Quartet) am very grateful to the folks who really brought this CD up a notch or two: Dan Shores, who recorded the CD so beautifully in surround sound, and producers Victor and Marina Ledin, who helped get the most out of us.
For more information about "Americana" or to order a copy, visit our online store.